Artists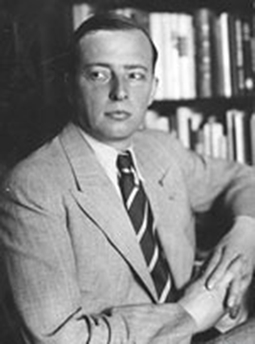 Prof. Benno von Arent
Born 19/06/1898 in Goerlitz;
Died 14/10/1956 in Bonn;
Biography
Arent was the son of the Prussian Lieutenant Colonel Benno von Arent (1868-1904) and grandson of the Prussian Lieutenant General Benno von Arent. After graduation, Arent was a participant in the First World War and then worked in Freikorps and the Reichswehr. After the First World War, Arent became an apprentice in a gas meter and fittings factory and then a costume designer for a clothing company. In the time of high unemployment, he worked among other things as a car salesman and learned alongside as a self-taught the profession of an architect.

Click here to learn more!
From 1923 he was an outfitter on various stages in Berlin, initially without success. Politically, he was a member of the völkisch-minded, anti-Semitic Kampfbund for German culture, in 1931 he joined the SS and 1932 in the NSDAP. In 1932 von Arent was the founder of the "Federal National Socialist stage and film artist", who was renamed "Kameradschaft der Deutschen Künstler" in 1933. After the seizure of power of the NSDAP Arent belonged to the board of the Reichstheaterkammer. In addition to his work as a stage designer, especially for the Goebbel's controlled German Opera House (the previous City Opera Berlin), he also designed medals and uniforms and he endowed political events.
After personal assignments for Adolf Hitler in 1936 Arent was appointed Reichsbühnenbildner (in the vernacular: "Reibübi"), a title that was mainly intended to underscore Arent's exemplary position as a set designer and outfitter NS-compliant theater productions. Occasionally, Hitler imposed his own stage designs on a kind of teacher-student relationship, a relationship that co-founded the career of the stage set designer. Hitler described him in 1942 in a table talk as one of the three most important stage designer, but although he could launch Arent on various stages, he did not succeed in accommodating him at the Bayreuth Festival. Arent, whose artistic views were shared and probably influenced by Hitler, favored a realistic, often monumental style in his own stage sets and costumes, which he credited with popularity and intelligibility tried to give mass effect. However, he was unable to develop or even enforce his own style at the outbreak of war in view of artistically significant competition.
His role as a festival designer during major marches also affected his stage style, including the political convention of the Meistersinger. 1936 Arent was commissioned to supervise the stage designer and presidential council of the Reichstheaterkammer. On April 20, 1937, he received the title Professor, like many leading Nazi cultural officials. In addition to his party responsibilities, Arent continued to work as an architect. His most famous work was the design of the "Berlin house of the German Work Front (DAF)". In spring of 1939 Arent was appointed "Reich Commissioner for Fashion", an office that was dissolved due to the war but after a short time.
During the War against the Soviet Union in the World War II Arent, who joined the SS in 1931, belonged to the staff Heinrich Himmler. On August 15, 1941, according to his records, he was an eyewitness of a war crime at Minsk, where partisans and Jews were murdered. Arent also became a member of the Waffen-SS in 1944 and was named SS-Oberführer. At the end of the war, he became a Prisoner of War by the Soviets and was released in 1953. In the meantime his Sudeten German Journal (1939) was added to the List of the literature to be discarded in the Soviet Occupation Zone. In 1956 a denazification procedure was filed in Berlin and shortly after his sentencing Arent died.
The ink dispenser and cigarette case design is by Benno von Arendt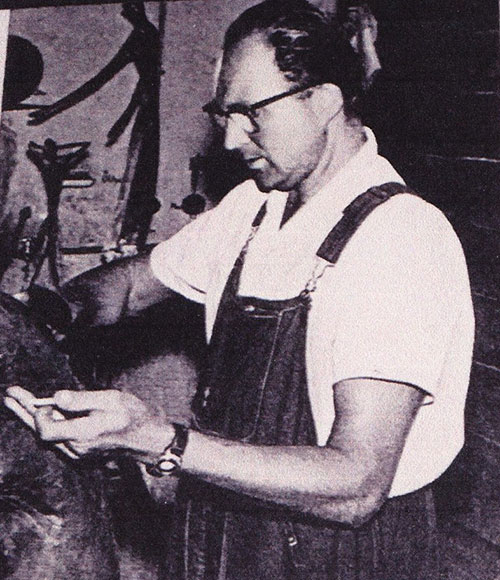 Ferdinand Auerhammer
Born 17/05/1924 in Dresden;
Died 04/11/2005 in Oberhausen / Bavaria;
Biography
He received his education at Professors Lommel and Georgil at the Munich Academy. The artist lived in Gröbenzell near Munich and exhibited as part of the new Munich artist association in the house of art.
The still young artist showed a series of sculptures of young girls: "Girl with pitcher", "girl with bull", "dancers and attendees" stood out by their trady grace. Especially in the composition and yet the natural form is not hurt, they are delicate without looking playful.
A third motive group in his work are animals: heron, cats, partly in bronze, in ceramics as garden plastics, or also driven in copper and harmoniously used in a wall surface. Auerhammer did not work in stone. Incidentally, he supervised the creation of his bronzes in all phases themselves, from the model to the finished casting. Here the merger of artistic ideas and craftsmanship is particularly illustrious.
Has created the model number 118 Lizard for factory Allach.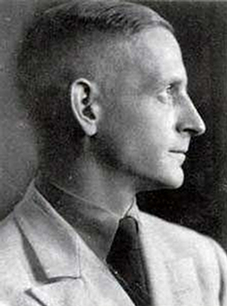 Karl Diebitsch
Born 03/01/1899 in Hannover;
Died 06/08/1985 in Kreuth, Tegernsee;
Biography
After attending school in Hanover Diebitsch began a painter's apprenticeship, which he could complete only after the end of the First World War, since he had already reported in October 1915 as a war volunteer to the German army. In order to study at the local Academy of Fine Arts, he moved to Munich, but first worked politically and as a member paramilitary organizations, before 1923-1925 he was a student of Hermann Groeber at the Academy.

Click here to learn more!
From 1927 to 1931 he was the director of a porcelain painting in Munich, then without a permanent position. In early 1936, he was commissioned by the Co-Founder of the Allach porcelain factory
Heinrich Himmler
to become the artistic director and designed vases and Yole candle holders as gifts that were intended for SS members
After the Second World War Diebitsch worked as a porcelain painter for the factory Heinrich & Co in Selb
Karl Diebitsch was responsible for the following designs:
86+87 Candelabra, 89 Candle holder (so called Diebitsch candle holder), 106 Candle holder, 119 Candle holder, 506, 507+508 Porcelain – Vase.
Richard Förster
Born 25/09/1873 in Petersburg;
Died 27/10/1956 in Munich;
Biography
After a brief study visit at the Städel Institute in Frankfurt am Main with F. C. Hausmann, Förster moved to Munich to study there at the Academy of Fine Arts under W. von Rümann from 1899-1901. After several study trips through Europe, he exhibited as a sculptor and modeller in the Glaspalast in Munich. From 1910 he belonged to the circle of members of the Munich Secession.

Click here to learn more!
After 1919, Förster worked as a figurative designer for the porcelain factory Rosenthal in Selb and Allach. After successful employment in the Third Reich Förster worked for the company Oskar Schaller in Windischeschenbach.
Richard Förster designed the following figurines:
31 Hitlerjunge drummer, 45+46 Bückeburger peasants, 47+48 Bavarian peasants, 49+50 Gutacher peasants, 51+52 Frisian peasants, 53+54 Hessian peasants, 59 B.d.M.-Girl with flag, 64 B.d.M. Gild, 73 Girl after bath, 103 surprised, 112 Falcon, 113 Hitlerjunge, 122 long John, 131 Butler-Dragoner, 134 Till Eulenspiegel, 135 The Feather Hat, 136 The Dagger Bearer, 138 Musketeer, 139 Garde du Corps, 141 Standard bearer of Panduren, 153 Lansquenet with Halberd, 154 Lansquenet with two-handed sword, 155 Flute player, 171 Musketeer, 176 Bavarian Chevauleger Officer, Morisken: 1939 The Mohr, 1940 The Prophet, 1941 The Smart, 1942 The Astute, 1943 The Farmer.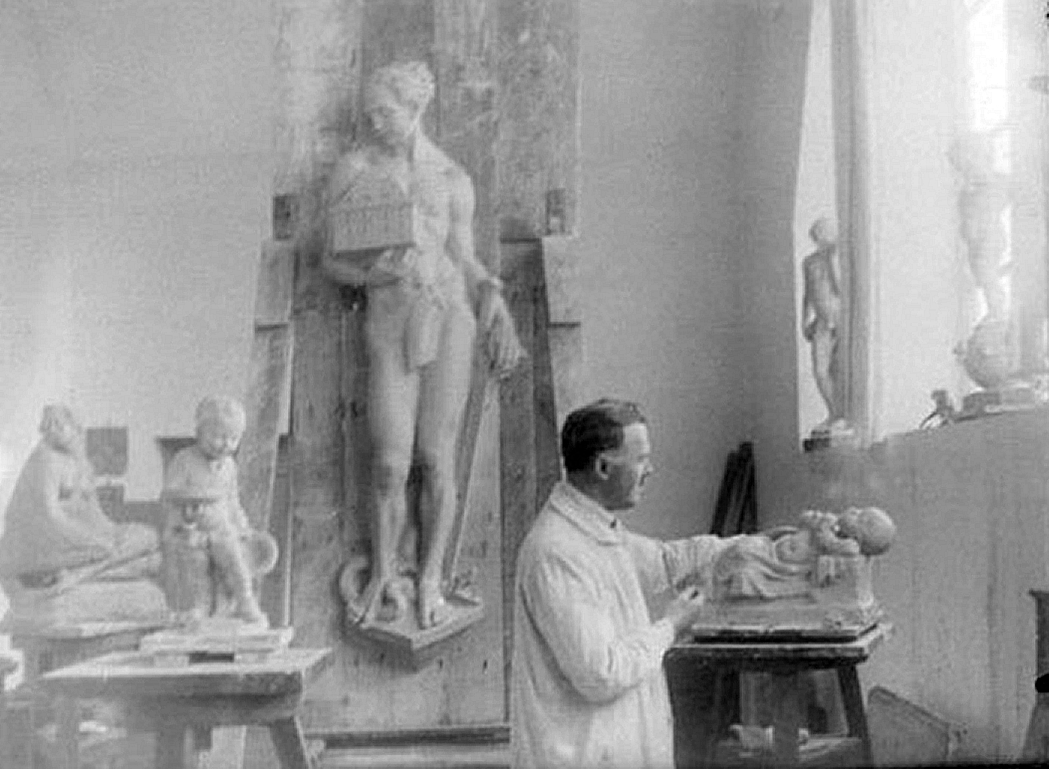 Karl Himmelstoß
Born 12/07/1878 in Breslau;
Died 03/05/1967 in Munich;
Biography
Studied at the School of Applied Arts in Berlin. Around 1911 activity for the Royal porcelain factory Berlin. Since 1912 he was a freelancer of the art department of the porcelain factory Rosenthal in Selb for many years. At this time he lived in Pasing near Munich. From 1913 until the early 1930s, Himmelstoß also provided designs for figurative models for the Schwarzburger Werkstätten for porcelain art in Unterweißbach as a freelance collaborator. In 1926 alone he designed more than 30 small sculptures and vessels for the art department of the porcelain factory Lorenz Hutschenreuther AG, Selb.
Karl Himmelstoß made only the design for Munich Maid Flower fare in Munich 1940 for Allach.
Paul Horn
Born 22/07/1876 at Merseburg;
Died 14/03/1959 at Greifswald;
Biography
Paul Horn, son of a master stonemason, learned from 1891 to 1894 with his father, then at Carl Dopmeyer in Hanover.
From 1901 he worked freelance in Halle (Saale). In 1919 Horn was a founding member of the Hallische Artist Council and the Hallische Artist Group.
Paul Horn was the father of the sculptor Richard Horn.
Only designed piece; 98 Mother with child.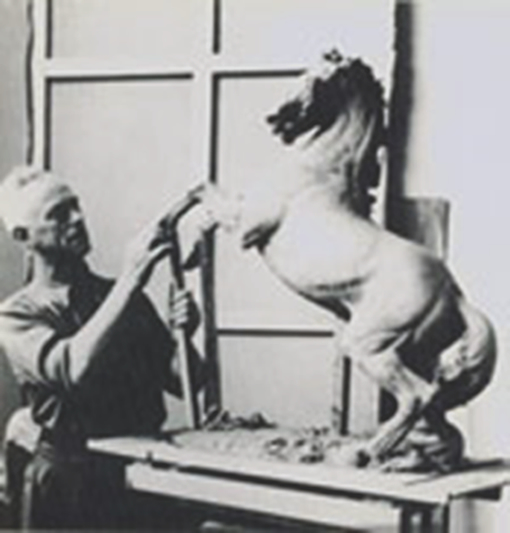 Prof. Theodor Kärner
Born 10/01/1884 in Hohenberg / Eger;
Died 06/09/1966 in Munich;
Biography
From 1898-1903 Kärner completed an apprenticeship as a modeller at Hutschenreuther. He then attended the sculpture class of Heirich Wandere´ (1865-1950) and the decorative sculpture class of Anton Pruska (1846-1930) at the Royal Bavarian School of Applied Arts in Munich. Between 1914 and 1921 he was with the animal painter Heinrich von Zügel (1850-1941) at the Academy of Fine Arts in Munich as a guest student, and later enrolled in evening classes.

Click here to learn more!
From 1905 to 1918 he worked as a sculptor in the porcelain factory Nymphenburg in Munich, between 1918 and 1934 as a freelancer for the company Rosenthal in Selb. In 1917 Philipp Rosenthal (1855-1937) bought the porcelain factory in Bahnhof-Selb. Although belonging to the plc, it initially remained private property of the company owner. Around 1922, the production of art and decorative porcelain began there in full. From this time on, the permanent cooperation of Theodor Kärner should be expected there. It was very likely that it lasted well beyond 1934, although the sculptor had already quit the main plant in Selb.
In the porcelain factory Allach he was then employed until 1945 as artistic director. The porcelain factory Allach was at that time already an enterprise of the SS with branch office Dachau. Theodor Kärner was elevated there to the rank of SS-Hauptsturmfuhrer honorary. On April 20, 1938, he was appointed professor at the Academy of Fine Arts in Munich. In 1940 he participated in the Great German Art fair exhibition at the "Haus der Deutschen Kunst" in Munich. At the exhibition German artists and the SS 1944 in Breslau he was issued a "Malachowsky Husar".
As part of the denazification he was interned from 1945 to 1947 in the camp Moosbach. After his dismissal Kärner was head of the art department of the porcelain factory Eduard Haberländer in Windischeschenbach in the years 1947-1953. There, a part of the collection from Allach was taken over and continued to be produced. Rosenthal employed Theodor Kärner again in 1953 as a freelancer and in the same year took over the art department from Windischeschenbach with all Allacher Kärner models, which were executed there until the closure of the art department in Selb.
Theodor Kärner works acknowledged at present: 52 models for Allach, 88 models for Nymphenburg, 114 models for Rosenthal and 51 models for Eschenbach.
The following models were designed by Prof. Kärner:
0 SS-Rider, 1 Young Dachshund – sitting, 2 Young Dachshund – lying, 3 Elephants – standing, 4 Elephants – sitting, 5 Bear – begging, 6 Bear group, 8 Bear – lying, 9 Bear with ball, 10 Mountain deer , 11 German Shepherd – small, 12 Fox Terrier – lying, 13 Dachshund, 14 Roebuck, 17 Seydliß-Kürassier Officer, 18 Ram, 19 Fox Terrier – standing, 20 Roaring Hirsch, 29 Guards Hussars Officer, 41 fawn – lying, 42 SS flag bearer , 60 Lying Deer, 61 Young Hare – sitting, 62 Finnish Bear, 65 Pilot, 66 Aviator Officer, 68 Squirrel, 74 Jumping Horse, 76 Great German Shepherd, 77 worker, 78 Fox with mouse, 79 Fox creeping, 80 Roebuck, 81 Munich Maid, 82 Amazon, 84 Fawn – standing, 88 Standing Bear, 90 Standing Horse, 91 Butterfly, 93 Guards Hussar, 94 Frederick the Great on Horseback, 97 Dragoons Officer, 102 Kids – lying, 105 Elephant – trumpeting, 107 Lamb – standing, 108 Goat fawn – standing, 115 hunting hussar, 121 Malachowski-Hussar, 149 Elephant, 151 Fawn – small, without model number Pallas Athena, K9 Steel helmet head.
Prof. Wilhelm Krieger
Born 02/06/1877 in Norderney;
Died 13/09/1945 in Herrsching;
Biographie
Wilhelm Krieger lived as a student with relatives in the north and attended the local Ulrichsgymnasium. He left without finishing school and started a three-year apprenticeship as a decorative painter in Bremen. In 1906 and 1907 he studied briefly at the Arts and Crafts trade school in Munich in accordance with his desire to become an artist like his boyhood friend Poppe Folkert. However, he decided to abandon his studies for landscape painting. From about 1901 onwards he became a self-taught sculptor.

Click here to learn more!
Two years later he became a partner of the company
Zierhut & Warrior
who supplied craft items such as tableware and jewellery. He began to devote himself to animal sculpturing and was a freelancer for the ceramic workshops in Herrsching, where he acquired a piece of land.
In 1912 Krieger married the drawing teacher and ceramist Emilie Butters. Butters, born 1879 in Neustadt at Haardt, was a ceramics artist and drawing teacher. After a two-year apprenticeship at the Munich School of Applied Arts she began studying at the Lehr- und Versuch-Ateliers for applied and free art in 1905, a Munich art school named after Wilhelm von Debschitz. She was one of the first students of a commercial ceramic workshop there in 1907 under the direction of Clara Trueb produced plates, vases and small plastic art. Since 1911 she was artistic director of the painting department of the ceramic workshops in Herrsching. In 1916, two years after her closure, she returned to her first profession as a teacher. The couple had five children.
Wilhelm Krieger was a member of the United Workshops for Arts and Crafts, a Munich workshop company, which was one of the founders of the still existing German Werkbund. He participated from 1907 in exhibitions of the Munich Secession and before the First World War at the Great Berlin Art Exhibition. From 1913 he exhibited at the Munich Glass Palace, which in 1927 acquired his work "Buzzard, standing". In the same year, Wilhelm Krieger was awarded the honorary title of Professor by the Bavarian Ministry of Culture. From 1937 to 1944 Krieger participated in the annual Great German Art Exhibition in the Haus der Kunst, which had been planned in Munich at the instigation of Adolf Hitler by his architect Paul Ludwig Troost. In the house, according to the National Socialists, "real" German art was to be presented. Wilhelm Krieger died on September 14, 1945 in Herrsching, his wife in 1962.
The following designs were made by Prof. Wilhelm Krieger:
110 Seidenschwanz, 111 Kohlmeise and K10 Eagle.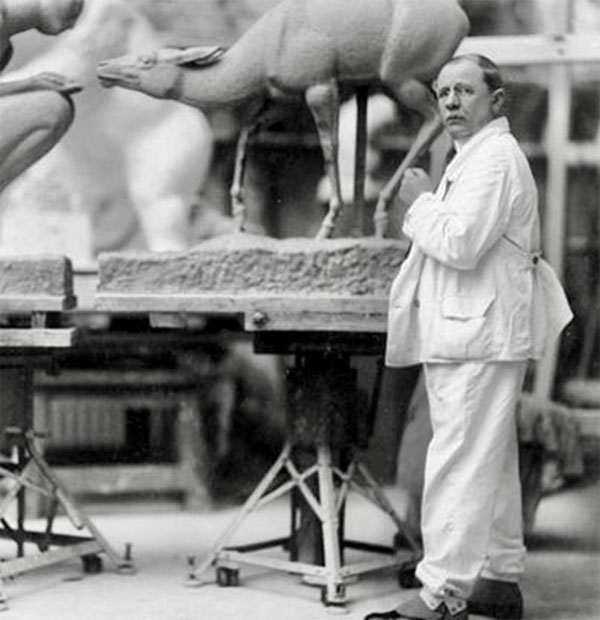 Hugo Lederer
Born 16/11/1871 in Znaim;
Died 01/08/1940 in Berlin;
Biographie
From 1884 to 1888, Lederer attended the Imperial and Royal School of Sound Industry in Znojmo. Immediately after graduation, Adalbert Deutschmann hired him for his arts and crafts studio in Erfurt. Lederer has not received any academic training.
In 1890 Lederer moved to the workshop of the sculptor Johannes Schilling in Dresden. The sculptor Christian Behrens persuaded him to Breslau two years later. But in the same year Lederer went to Robert Toberentz in Berlin.

Click here to learn more!
In 1895 he became a freelance sculptor and settled in Berlin. For some time – until 1924 – he lived and worked in the studio house Siegmundshof 11 in Berlin-Tiergarten, where August Gaul and since 1912 also Käthe Kollwitz had their sculptor studios. He then moved to Knesebeckstraße 45 and was given studio rooms at Hardenbergstraße 34 in the Hochschule für bildende Künste.
In 1900 he designed the Bismarck monument in Wuppertal-Bramen. His greatest success was in 1902 in the competition for a colossal Bismarck monument in Hamburg, as one of his two submitted designs. Other designs and monuments followed.
1911 was followed by the "Fischerpüddelchen fountain", which later served as a model for the Allach porcelain factory.
After 1933, he was hardly noticed. Lederer was neither one of the "degenerate" artists, nor one of the "true German art" representatives who were exhibited at the "Great German Art Exhibitions" in Munich in 1937–1944.
At the end of August 1933, the bronze statue of his Hamburg Heine monument was cleared by the NS Senate (and melted down around 1943 for metal extraction). The 1.40-meter-high stone base, decorated with reliefs and the inscription HEINRICH-HEINE, was only removed after 1936. Lederer's reactions to the destruction of his artwork have not been documented.
Lederer did not sign the "Call of the Creators" in 1934 in favor of Adolf Hitler.
His illness overshadowed the last years of his life and prevented him from working as an artist. At the age of 68, he died on August 1, 1940 of progressive paralysis in the St. Franziskus Hospital in Berlin. On August 5, a simple funeral service took place in the hospital chapel.
Only draft:
127 The fishing boy, replica of the Fischerpüddelchen fountain in Aachen.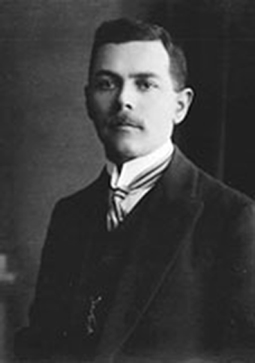 Franz Nagy
Born 22/06/1888 in Pécs (Fünfkirchen / Hungary);
Died 14/01/1962 in Munich;
Biography
The Hungarian-born learned former in the porcelain factory Zsolnay former Fünfkirchen, came in 1904 to Passauer porcelain factory Dressel, Kister & Co., worked from 1906-1921 with interruptions by the war in the Nymphenburger porcelain factory. In Neuhausen, where he lived with his mother and three siblings, he married in 1913 the Munich born Rosa Sauer. Afterwards he built up the art department of Rosenthal in Selb as responsible porcelain expert.

Click here to learn more!
In 1927 Franz Nagy acquired a 0.335 hectare property in Lindenstrasse, today's Reinhard-von Frank-Str. 8, in the immediate vicinity of what was then Krauss & Comp. plc, for the purpose of later use. At that time he was employed as head of the art department at Rosenthal in Selb-Plößberg, where he also lived with his family. In 1933 he began planning a ceramic workshop on the Allach property. It was not until 1934, after Nagy bought a house in what was then Parkstrasse. 16 (today Rueßstraße) he commissioned the Allach construction company Albinstätter to build a so-called settler house with an apartment on the first floor and the workshop rooms on the ground floor. The Porzellan-Manufaktur-Allach (PMA) was founded in April 1935 by Franz Nagy in Allach, which was still a suburb of Munich until December 1938, initially as "Ceramic workshops Nagy" and registered with the Munich Chamber of Crafts. An extension took place in May 1935. The transformation into the "Porzellan-Manufaktur Allach-München GmbH" with the partners Franz Nagy (works manager), Theodor Kärner (sculptor), Karl Diebitsch, an SS man from the very beginning (painter) and Bruno Galke (businessman) took place in January 1936.
As early as 1937, the production facility, which had become too small, was relocated to the former powder factory on the site of the SS exercise and training camp near the Dachau concentration camp, today's area of ​​the VI. Riot Police Department Dachau. A tour through this area by an experienced and highly knowledgeable expert on this area, Mr. Pappenfuß, is highly recommended. The former production building of the powder press plant from the time of the First World War no longer exists, but there are aerial photographs, site plans and a photo.
The manufacture in Allach was temporarily closed until 1941 Franz Nagy put the Allach factory back into operation together with Kärner, which Franz Nagy had been pursuing for a long time. Kärner's cooperation as artistic director already shows that it was certainly not only ceramics that was produced there.
In October 1939 the final takeover by the General SS took place, which had been prepared for a long time in Berlin. After being urged several times Nagy and Kärner had to hand over their shares to the head of the office of the staff the Reichsführer-SS Dr. Walter Salpeter. The porcelain manufactory had been more and more appropriated by the SS leadership in the previous years and thus finally expropriated from Nagy and Kärner. However, all threads came together in secret with Reichsführer of the SS Heinrich Himmler, who had "big" plans for the small production facility.
In addition to the three artists Nagy, Kärner and Diebitsch, from various German porcelain manufacturers in Berlin, Dresden, Selb, Munich and others, had Richard Förster, Ottmar Obermeier, Prof. Benno v. Arent, Prof. Willy Zügel, Adolf Röhring, Wilhelm Neuhäuser and others engaged. This unique concentration of the best artists, designers, potters, porcelain painters and all the important craftsmen for the production of high-quality porcelain made it possible to produce the best porcelain objects, such as historical equestrian figures, animals, Morisk dancers and jugglers, candlesticks, vases, in the only nine years of existence of the Allach porcelain factory, but also to produce political figures and objects for everyday use.
The SS runes became the hallmark of the new porcelain. The manufactory's program included a wide variety of art objects as well as tableware with a total of approx. 240 porcelain and ceramic models. A large number of custom-made products were also produced. During the war years, simple everyday objects such as ointment vials and canteen dishes were also produced in Dachau.
The Co-Founder of Allach Porcelain factory created the following models:
15, 15a, 16, 21, 21a, 22, 22a, 23, 23a all Baroque candle holder, 24 Group of Birds, 25 Group of Birds, 44 Young Rabbit – lying, 55, 56, 57, 63, all candle holders, 69 Cupid of Spring, 70 Cupid of Summer, 71 Cupid of Autumn, 72 Cupid of Winter, 105 Fox Terrier – standing, 109 The Victress, 500, 502, 503,504, 505, 510, all Vases, standing Bear on socket without model number, Chandelier, K5 Large vase with old Germanic motifs.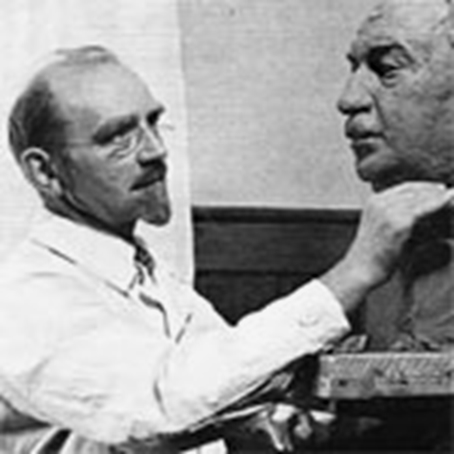 Wilhelm Neuhäuser
Born 13/12/1885 in Katzhuette / Thuringia;
Died 01/01/1960, Dachau;
Biography
Wilhelm Neuhäuser studied at the arts and crafts in Coburg, Dresden and Munich. Since 1919 he was a member of the artist colony Dachau. Between 1910 – 1960 he designed numerous models for Nymphenburg. From 1910 to 1949, at the Schwarzburger Werkstätten he formed some models after Neuhauss's designs.
The design 85 Long-eared Owl was created by Wilhelm Neuhäuser.
Ottmar Obermaier
Born 11/07/1883 in Inzell / Oberbayern;
Died 28/07/1965 in Munich;
Biography
In 1907 Obermaier visited the academy of fine arts in Munich, where he studied with Prof. Erwin Kurz, who was a famous teacher and sculpturer at this time. At first he was representatives of the Art Nouveau and created figurines and busts, especially from biscuit porcelain.
Obermaier's works were often exhibited in the Glaspalast in Munich.

Click here to learn more!
From 1923 to the mid-1930s, Obermaier worked as a designer for Rosenthal, where he was commissioned with the design of idealized human sculptures on the basis of Greek and Roman classics. These figures, which primarily express physical aesthetics and athletic activity, carry titles like "disc thrower", "winner" or "striding girl".
From 1936 Obermaier also worked for the porcelain manufactory Allach, where he contributed some designs.
His porcelain sculptures idealized the National Socialist Ideal Arian body.
He also made a variety of medals, plaques, fountain plastic and tomb stones.
On the great German art exhibition in the house of German art to Munich, Obermaier was represented with thirteen works, two of which were bought by Hitler.
Obermaier was co-founder of the athletics department of the "TSV 1860 Munich" and created the Lion shield at the clubhouse.
The following designs were created by Ottmar Obermaier:
75 Dachshund, 83 Fencer, 100 Mother with child, 116 The Victress and K8 AH Bust.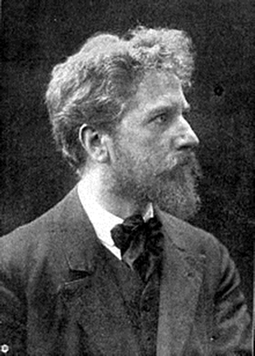 Hermann Joachim Pagels
Born 11/09/1876 in Luebeck;
Died 01/07/1959 in Berlin;
Biography
Pagels was a son of Heinrich Pagels, the senior boss of the then nationwide significant company Heinr. Pagels in the Breite Straße to Lübeck, a porcelain and household goods business. He was a classmate of Thomas Mann on the Katharineum to Lübeck. Together with Fritz Behn and Hans Schwegerle he forms a group of Lübeckers of almost the same age who became successful sculptors and whose realism corresponded to the taste of the times.

Click here to learn more!
He studied from 1894 to 1900 at the Academy of Fine Arts in Berlin and was the student of Otto Brausewetter, Peter Breuer and Ernst Herter, and was active in their studio from 1901 to 1904. In 1896 he won the 1st prize of the Academy of Composition of a drawing and 1900 for composition of a statue. 1904 was represented with three sculptures at the International Art Exhibition in Dusseldorf. In the same year he received a bronze medal at the World's Fair in St. Louis, where he was represented with the bronze pessimist and snake.
In 1905 he opened his own studio and received an honorable mention of the Society for Berlin Art for his children's group. From 1907 he made study trips to France and Italy and worked for 18 months in Florence. After his return he had his studio in the studio house Siegmunds Hof 11 in Hansaviertel. In 1911 he created the design for a porcelain figure of KPM, a portrait statuette of Crown Prince Wilhelm.
Among his better known early works is the chicken thief fountain on the Aachen Rathausplatz (1913). This was destroyed during World War II and replaced in 1953 by a replica. Castings of the chicken thief, of which there was also a smaller version, are located in the castle garden of Berlin-Köpenick and in the collection of Behnhauses in Lübeck. The porcelain manufacturer Allach sold as Model No. 126 a 27 cm high porcelain version. In 1921 Pagels created the mausoleum for Emil Possehl in the castle gate cemetery. He was also represented at Berlin cemeteries with graveyard arts, especially in the park cemetery Lichterfelde and on the Frankfurt main cemetery decorated the tomb Kremsky's with a Christ figure designed by him.
Through the mediation of the horticultural director Erwin Barth, who came from Lübeck, he was commissioned in 1925 to create a group of figures that adorn the entrance to the Jungfernheidepark and at the same time symbolize the idea of ​​the Volkspark. Of the two-part group, only one of the two bears with playing children survived after the Second World War. 2011 was the establishment of a faithful replica of the second bear on the bear square in Volkspark Jungfernheide. At the time of National Socialism Pagels was known for his Adolf Hitler busts. Hitler acquired from Pagels the work Schwimmerin for 8000 Reichsmark. Pagels works were shown during the Nazi period in 1936 at the Great Munich Art Exhibition, where he was represented with marble and bronze busts of Field Marshal Wilhelm Keitel, Field Marshal Gerd von Rundstedt and Colonel General Walther von Brauchitsch. In the House of German Art in Munich in 1940, among other things, his bronze busts by Rudolf Hess, Joseph Goebbels and Benito Mussolini issued. His last work (1957) was a relief of Thomas Mann, which was attached to the Buddenbrookhaus in Lübeck Mengstraße.
Hermann Joachim Pagels created:
126 The Chicken thief based on his earlier work, the chicken thief fountain on Aachener Rathausplatz (1913).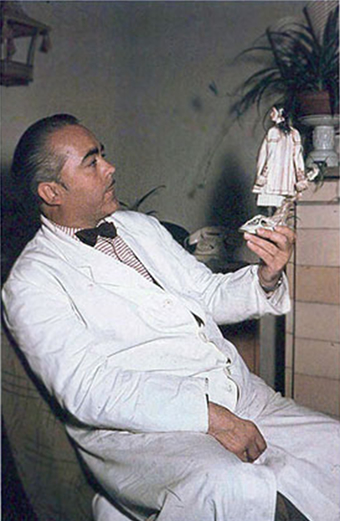 Adolf Röhring
Born 18/09/1911 in Schönwald / Oberfranken;
Died 24/01/1981 in Neustadt Coburg;
Biography
Adolf Röhring was born on 18.09.1911 10 Schönwald in Upper Franconia as the son of the porcelain master craftsman Adolf Röhring and his wife Babette Bauer.
After the end of the 7th grade elementary school, he came as a modelling apprentice in the porcelain factory Alt-Schönwald. After completing his apprenticeship, he attended the State College of Porcelain Industry in Selb, where he continued his education under the direction of Prof. Klee. In 1929 Röhring got a job at the company Rosenthal, which then transferred him in 1930 to the sister plant in Neustadt near Coburg.

Click here to learn more!
On 29.12.1935 he married Liesel, born Fröber. Since Röhring had entered into marriage without a marriage permit of the Rasse- und Siedlungshauptamt-SS, he was punished "with a strict reprimand" letter dated 05.04.1937. In 1935 he went with the company Rosenthal, after it was deported from Neustadt, to Selb-Plössberg. "… I had a very good working relationship with the company Rosenthal and did not leave for political reasons, but to work with the well-known Professor Kärner in Munich…" In 1938 he went to the porcelain factory Allach for the reasons mentioned above Nagy and Kärner, whom he met when he joined Rosenthal.
Already in September Röhring was drafted into the Waffen-SS. At the end of April 1945 he was severely wounded in the defense of the Tiergarten quarter, with the painfully bitter consequence that his right hand was half paralyzed. In May 1945 seriously wounded he came in Russian captivity, from which he was released on July 30, 1945 as an invalid. In January 1946 he was automatically arrested as an SS man and was in the camp Auerbach until 30.05.1946.
In September 1946, some Neustädter manufacturers and refugees, who wanted to found a new existent, came to Röhring with the request for making molds and sulfur forms – for the local industry. Adolf Röhring immediately took up his learned profession as a modeler. On October 28, 1947, the saying of the district chamber Neustadt near Coburg was issued on "follower".
On 11.09.1950 A. Röhring registered with the Gewerbeamt of the city administration Neustadt with Coburg the enterprise "Adolf Röhring, porcelain Atelier, new town with Coburg, Bavaria", which until 30.09.1974 under his name and then until 31.05.1981 under the name of his wife Elise Röhring existed.
The following models were designed by Adolf Röhring:
30 green finch, 33 blackbird, 95 rising horse, 128 jays, 129 magpie, 132 mouse, 133 mouse, 143 flag bearer free corporal, 144 mouse, 147 candle holder, 150 mouse, 187 Romanian peasant group in costume, 191 + 192 Transylvanian couple, 505 porcelain – Vase, 512 candle holder, 515 crater vase, 519 porcelain vase, 757 golden eagle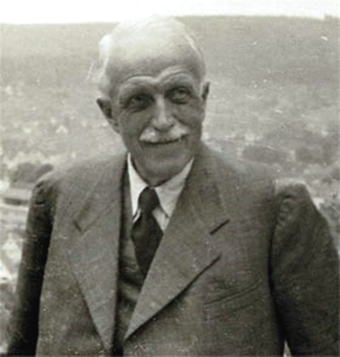 Prof. Willy Zügel
Born 22/06/1876 in Munich;
Died 04/05/1950 in Murrhardt;
Biography
Willy Zügel, firstborn son of the animal painter Heinrich von Zügel, first studied painting in the class of his father at the Munich Academy, but since 1903 turned to sculpture. Stayed in Paris in 1906, since 1910 member of the Munich Secession. He lived alternately in Munich and Murrhardt.

Click here to learn more!
Zügel became known for his small animal sculptures, with which he was represented in numerous galleries such as the National Gallery Berlin, the Kunsthalle Bremen or the Munich Municipal Gallery in Lenbachhaus as well as the art collection of the city Murrhardt.
He made models for the porcelain factory Philipp Rosenthal 1911-1926, the porcelain manufactory Nymphenburg 1911-1913, the porcelain manufactory Meissen and since 1935 for the porcelain manufactory in Munich-Allach, which opened up a wide audience.
In public order Zügel also created numerous monuments, including the Fallen monument of the First World War in Murrhardt and the monument to Theodor Christomannos.
Only design: 32 bear sitting – licking paw.
The following sources and literature were used: Wikipedia, Platzwall Verlag – Militaria magazine, Gabriele Huber – "Die Porzellan-Manufatur Allach-München GmgH",
Dachauer Hefte – Issue 15 by Albert Knoll "Die Porzellan-Manufatur Allach-München"